The FyTek PDF Forum is available to browse or sign up for free if you would like an account for posting or to subscribe to the topics. The forum is located here: http://www.fytek.com/forum. Please ask your question here if it is general in nature or doesn't contain any private data as it may be answered quicker and others might benefit from the solution. Otherwise, you may email support@fytek.com.
Support is provided free of charge for the first 90 days after purchasing a product. Beyond that, support contracts may be purchased. A support contract will entitle you to download newer versions of the software (including fixes for any problems you may have encountered) as it becomes available. Contact our sales staff at sales@fytek.com for support contract purchase inquiries.
Please check the documentation to make sure what you are trying to do is supported and you have the command syntax correct before contacting the support department.
DLL Issues
If you are having trouble using the DLL in a website, first try using the sample VB application included with the application. This will help you determine if the DLL has been installed and is working properly. Most issues with the DLL have to do with incorrect permission settings in allowing the web user to access or locate the DLL. In addition, the web user must have permission to write to the temp directory to extract needed files from the DLL.
.NET Issues
Try running the dotnet.cs program included with your download. There are instructions at the top of the program on how to compile. This is a C# test program to verify you have the necessary DLLs and they are working properly. Almost all issues with the .NET involve permissions or pathing issues to the DLLs by the web user.
Copy the file perl510nh80.dll to the bin directory of your web application. You may need to copy perl510rt80.dll to the bin directory of your web application as well. This is the area where you should have the DLL of the main program. For example, if you are using Report Writer, this would be pdfrwdn.dll. In some cases you may need to also copy perl58rt.dll and perl510nh80.dll to your Windows directory so the application can find them. All three of these DLLs, perl510rt80.dll, perl510nh80.dll, and the application DLL, need to be accessible by the web user.
Pop-up Message
Most of our single user products display a pop-up when they are run. For example, you will get a message similar to this: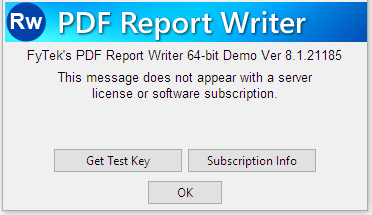 This is to prevent their use on a server or batch environment. Please contact sales at sales@fytek.com to obtain licensing that will remove the pop-up. We also have a subscription service that can be used to remove the pop-up.

Custom changes to the software or help with creating scripts or other similar issues are not covered by support. We can provide help in these areas, if necessary, at an extra charge.

Contact support via email at support@fytek.com. You may call 248-471-0851 with support questions; however most of the time we will need you to email us a sample of the problem you are experiencing. Our sales department can assist you in purchasing a support contract if you are not currently covered.

Please include the following in your email:

| | |
| --- | --- |
| | Date of purchase (if a purchase was made) |
| | Operating system |
| | Product name |
| | Product type (executable, DLL, etc.) |
| | Brief description of the error |
| | Minimal set of sample files needed for support to re-create the issue so it can be fixed |
Please do not email more than 2 megabytes of attachments to the support email account. We can make arrangements for FTP of large files if necessary.
The support email account is checked several times a day and we usually get back with you within one business day.